American socialite and television personality Khloé Alexandra Kardashian is a member of the Kardashian-Jenner family. She is known for her appearance in the famous reality show Keeping Up with the Kardashians with her family since 2007 and starred in the spin-offs. Besides being a television star, Khloé also runs several businesses and became a social media influencer.
Born in Los Angeles on June 27, 1984, Khloé is the second youngest child to Kris and Robert Kardashian. After her parents divorced in 1989, she lived with her mother and three siblings (Kourtney, Kim, and Rob). Kris then remarried to Bruce (Caitlyn) Jenner and had two children, Kendall and Kylie Jenner. Their marriage made Khloé have a total of nine siblings. Khloé studied in an all-girls school Marymount High School before dropping out and finished it through homeschooling. She was featured in her family reality show which gained grand success. The show revealed the personal lives of the family, including conflicts and love lives. Khloé was famous for having quick wit and being honest that was seen in the show.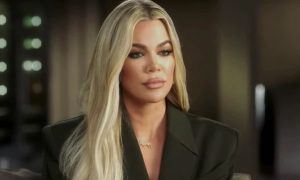 In 2009, she participated in a reality competition series the Celebrity Apprentice. She established herself as a television star by appearing as a cameo with Kourtney in a drama series 90210 for season 3. Branching to radio, she was featured in a weekly talk show at Miami's WHYI radio station. She also had a commercial-free radio show. This successful show brought her to become the co-host of a singing contest show X Factor.
In addition to her television and radio career, she runs several businesses with the help from her sisters. They managed the boutique chain D-A-S-H, designing jewelry, and launched a clothing line K-Dash. With her then-husband Odom, she premiered unisex fragrances Unbreakable and Unbreakable Joy. Khloé and her family released Kardashian Konfidential, a book about the family's affair that launched in 2010. As a global influencer, Khloé also worked with several brands. With her sisters, she became the representative of a weight-loss diet supplement product QuickTrim and a skincare line PerfectSkin. She was chosen as the brand ambassador of electric toothbrush brand Burst Oral Care in 2018. By 2020, Khloé's net worth was estimated at $50 million.