Duplichecker.com Review, An Online Plagiarism Checker Site for Students and Bloggers
Duplicate content is one of the concerning factor for students and webmaster.
if your teacher knows you are copying content from the internet then you put yourself on dangerous situation. No one in academic world would support act of plagiarism. There is nothing wrong on reading other's works for inspiration, however you have to make sure your essay is unique.
It's the same with bloggers, if duplicate articles are published, it will be very difficult to be indexed by Google. Even if it is indexed, it will not get good ranking in search engine. Google has been more sophisticated these past years. It can tell which articles are unique and which are duplicate. Google really like a site with good and unique content.
The purpose of search engines are to bring forth the best result that match with the user's query. They don't want to show six sites with the same articles to user, it will tarnish their great name. Moreover, if the real author is reporting your duplicate content site to google, it will give red flag to your site. Your site may be deindexed from google.
Duplicate content itself is very bad for SEO. Then, if you want to register your site to Google Adsense, your site will not be accepted. Moreover, your site may not get indexed. If you are lucky and get indexed, it will not for long. Google AI will filter your site and may deindex your entire site for having thin content issue.
So, if you want to copy other content, at least don't copy whole article. Only copy the part that you find useful for your readers. Also, I would suggest you to put backlink to the real source, so that when the real author caught you, they will not get angry, or you can also ask permission from the real author as a token of appreciation.
So, so that your site can be read or searched on google and get the best ranking, it's better to first check the articles you want to reach through plagiarism checker like Duplichecker or UniqueText.
One of the tools that aims to help site owners avoid duplicate content is Duplichecker.
FAQ DUPLICHECKER
Duplichecker, what is it?
Duplichecker is a plagiarism checker tool that can find duplicate content online. The tool will examine your content, sentence by sentence. It will show you plagiarism rate and which part of your content is duplicate. By showing this, you will be able to rewrite the duplicate parts and turn your content into a unique article.
Is Duplichecker Accurate?
I spent hours to try this tool. I copy content online, and put it into the textbox to be examined. I also put manual rewrite content into the tool, just to find whether this tool can find the source of my content. Well, I am not really satisfied with the result. It's not really accurate. Maybe my conclusion is the same as CovenantLinks's post Which One Is The Most Accurate Plagiarism Checker?
Despite of its bad accuracy I find a few advantages of this tool that I want to share to you.
The Advantages of Duplichecker
The best part about Duplichecker is that I can use this tool for free with no usage limits. Unlike other plagiarism content tools like Copyscape and Siteliner, Duplichecker itself is completely free and I don't need an account to use this tool.
Not only that, Duplichecker also has other benefits and advantages such as being able to upload several types of files, such as: pdf, tex, doctor, docx, odt, txt and rtf.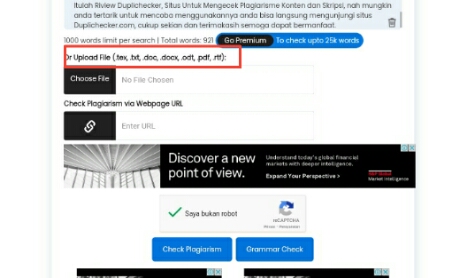 Another advantage of Duplichecker is: it can fetch content via URL. By attaching a link from the content I published, I can find a list of duplicate results of my content.
Duplichecker sendiri merupakan cabang perusahaan dari tools pemasaran yang sangat luas dan berpengalaman. Oleh karena itu fitur Duplichecker juga tidak hanya dapat mengecek plagiarisme saja tetapi juga dapat digunakan untuk menganalisis tata bahasa contoh;
Plagiarism checker from Duplichecker is only a part of many tools you can use on duplichecker.com. There are another writing related tool you can use on this site. One of them is grammar checker.
You just need to use it by clicking the button provided by Duplichecker. Unlike expensive tool like Grammarly Pro, which are paid, Duplichecker is free to use.
Drawbacks of Duplichecker
Although duplichecker has a few advantages, it also have a few drawbacks. One of them is the limit of many words we can check using this tool. Duplichecker limits their free user for 1000 words/search.
The problem occurs when I need to check 2000 words article. I have to divide the content into 2 parts, then check each part using the tool. It makes me worry whether the article is really unique or not, since I cannot check the whole article in one shot.
This would be no problem if I use the paid version. Duplichecker pro allows their user to check longer article at once. However since my budget is limited, I am a bit hesitate to pay for the pro version.
Other drawback is the inability to check entire site for plagiarism. You need to put each url of your site to this tool, one by one. Imagine if you have a big website with a huge amount of content? If this is your situation, the best solution is to buy credits from Copyscape, then check it there. Copyscape offers this service. You can run check on entire site, as long as you have enough credit. Check Copyscape review here.
The last drawback I found in Duplichecker is the amount of ads showing on its site.  It is on a ridiculous level. I know the importance of ads for the development of tool, especially free tool. The ads revenue also works as a reward for the developer. However it makes Duplichecker looks like amateur tool. A professional tool will keep the amount of ads low, in order to keep their customer happy.
In order to unleash all the functionality of Duplichecker, it would be better if you purchase their pro membership. By purchasing Duplichecker pro, you can also have an ads-free checking experience.
In conclusion, do I recommend this tool? Yes and no.
Yes if you don't take plagiarism seriously. I mean if you allow certain amount of plagiarism, then you are good to go with this one. However if you are a blogger,  a student or a teacher who needs to get a unique content. I would suggest you to invest your money on a decent plagiarism checker like UniqueText or Copyscape.